The Shining Star of CBD Product Innovation
Formula Philosophy
Skin is our largest organ and is permeable to most fat-based chemistries. That's great if you want to boost your skin's health and absorb beneficial CBD and other nutrients. It's terrible if you don't want to absorb petroleum-based ingredients.
There's every reason to use organic vegetable oils to moisturize and help deliver the valuable effects of CBD and associated terpenes. Our formulas are created with simple biochemistry in mind. Present are only what's necessary, nothing that's not.
We uncompromisingly use certified organic ingredients whenever available.
It simply makes sense to protect your health in as many ways as possible.
Astral Organica offers you innovative, premium products, unavailable anywhere else, with and without CBD.
Astral Organica Story
As a Stanford trained biochemist, I've always been interested in realigning the personal care product space towards the healthiest available options and have been doing that for over fifteen years.
Selecting rare and rich naturally occurring oils of the highest purity not found in other products is key to our line's success because they benefit not just your skin but also your entire body in ways other formulators can't imagine conceptually.
Historical formulation chemistry makes use of many synthesized petrochemicals that are blended together in a very complex mixture to achieve minimum functionality at maximum profit. This approach results in the type of ingredient lists that you can't pronounce much less actually understand.
We turn that approach on its head by instead selecting rich, certified organic oils that Mother Nature has made complex with great varieties of wonderful nutrients, vitamins and antioxidant biomolecules.
By integrating these lovely oils with the care and attention they deserve, we make awesomely functional products that have only a handful of ingredients in them and that you can easily understand.
If we can source a certified organic ingredient, we use it, otherwise it's always food grade so you can, and indeed should, feel completely confident using Astral Organica products as often as you like.
Astral Organica was conceived by founders Bryan Burke and Erik Kreider as a result of their mutual interest in botanical alternative remedies. Their areas of expertise include career-long experience in product development, quality control, applied science, chemistry, and regulatory affairs. We make products for ourselves, our families and friends - we welcome you to join us!
Read more
Benefits of delivering CBD through your Skin
A compound absorbed through skin enters your body immediately and gets distributed everywhere throughout.
This method results in consistent localized dosing.
It avoids absorption differences in your gut.
It avoids metabolism issues in your liver, as the liver is the first place chemistry goes via the portal vein when absorbed in the gut. If it's not a nutrient your body uses, the liver is there to remove it before it gets distributed throughout your body. 
It reduces the amount you have to take; it's vastly easier to get CBD locally into the tissues that need it where it can have its effect. 
LEARN
I've tried other products; this one works! I applied the MG+CBD crème and almost immediately noticed a difference - I could move my neck freely.
Denise C.
I use the MG+CBD crème daily – In addition to functional relief, I really like it and the moisturizing effect it has.
Lauren S.
I hike 8 - 20 miles and like the relief I feel from MG+CBD crème and it doesn't smell medicinal or skunky.
Megan M.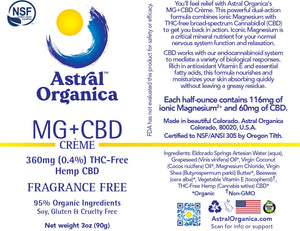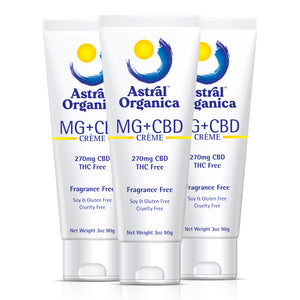 You'll feel relief with Astral Organica's MG + CBD Crème, containing 95% organic ingredients certified to NSF 305 by Oregon Tilth. ...
Learn more
Astral Organica Formulation Guarantee
THC Free
Broad Spectrum CBD only. We always get our extracts tested before formulation to ensure safety. 
Transdermal CBD
Elegant formulas that work via a known highly effective delivery pathway. 
Premium Ingredients
Certified organic and food-grade ingredients. If you can't eat it, don't absorb it through your skin.
Cruelty free
Our products are environmentally friendly and cruelty-free. We only test on Bryan. ;) 
Superb Customer Support
We love our products. We want you to love them too. We guarantee your satisfaction.
Made in USA
Our Colorado facility is certified USDA NOP and NSF305 for production of organic products.
Independent Lab Tested
We earn and maintain your trust and confidence through crystal clear information transparency. 
Safe & Effective Formulas
We only use bio-available ingredients to achieve the best results in functional health.
Fragrance Free
No synthetic fragrances. Scent profiles are designed using organic essential oils and herbalist theory.