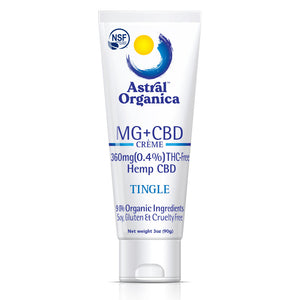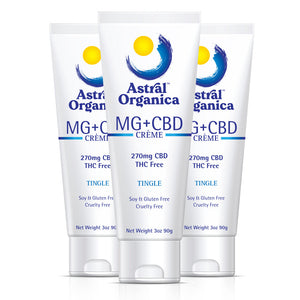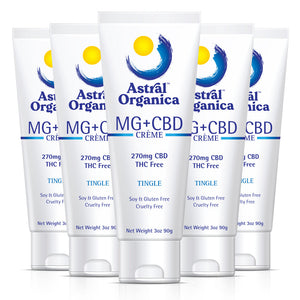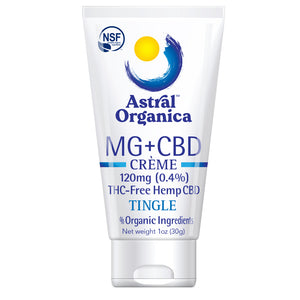 You'll feel relief with Astral Organica's MG + CBD Crème, containing 90% organic ingredients certified to NSF 305 by Oregon Tilth. 
With 6.75% organic menthol and 3.25% white camphor essential oil, our powerful triple-action formula combines ionic Magnesium with THC-free broad-spectrum Cannabidiol (CBD) and the instantaneous cooling effect of two natural topical analgesics to get you back in action.
Ionic Magnesium is a critical mineral nutrient for your normal nervous system function and relaxation. 

CBD works via our endocannabinoid system to mediate a variety of biological responses. Rich in antioxidant Vitamin E and essential fatty acids, the formula moisturizes and nourishes skin without leaving a greasy residue.

Each half-ounce contains 116mg of ionic Magnesium and 45mg of Broad Spectrum THC-Free CBD.
Ingredients: Eldorado Springs Artesian Water (aqua), Grapeseed (Vinis vinifera) Oil*, Virgin Coconut (Cocos nucifera) Oil*, Magnesium Chloride, Virgin Shea (Butyrospermum parkii) Butter*, Menthol 6.75% (menthol)*, Camphor 3.25% (Cinnamomum camphora) essential oil, Beeswax (cera alba)*, Vegetable Vitamin E (tocopherol)†, Hemp (Cannabis sativa) CBD*
* USDA Certified Organic, † Non-GMO
To see a Third Party Lab's Certificate Of Analysis (COA) for this product, click here.