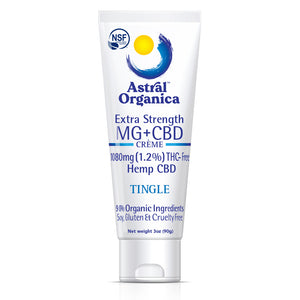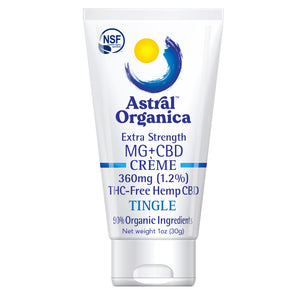 You'll feel extra relief with Astral Organica's MG + CBD Extra Strength Crème, containing 90% organic ingredients certified to NSF 305 by Oregon Tilth. 
Our powerful triple-action formula combines ionic Magnesium with high potency THC-free broad-spectrum Cannabidiol (CBD), AND the instantaneous cooling and analgesic effects of menthol and camphor to get you back in action. 
Organic menthol, a major component of peppermint oil, imparts a minty scent while promoting cooling topical analgesic effects. In aromatherapy, menthol is known to reduce congestion and inflammation and eases headache and joint pain. Camphor essential oil acts in cooperation with menthol to relieve pain and inflammation.  
Ionic Magnesium is a critical mineral nutrient for your normal nervous system function and relaxation. 

CBD works via our endocannabinoid system to mediate a variety of biological responses. Rich in antioxidant Vitamin E and essential fatty acids, the formula moisturizes and nourishes skin without leaving a greasy residue.

Each quarter-ounce contains 58mg of ionic Magnesium and 90mg of Broad Spectrum THC-Free CBD.
Extra Strength contains 1.2% CBD by net weight.  1080mg in 3 ounce, 360mg in 1 ounce.
Ingredients: Eldorado Springs Artesian Water (aqua), Grapeseed (Vinis vinifera) Oil*, Virgin Coconut (Cocos nucifera) Oil*, Magnesium Chloride, Virgin Shea (Butyrospermum parkii) Butter*, Menthol*, Beeswax (cera alba)*, Camphor (Cinnamomum camphora) essential oil, Vegetable Vitamin E (tocopherol)†, Hemp (Cannabis sativa) CBD*
* USDA Organic     † Non-GMO
To see a Third Party Lab's Certificate Of Analysis (COA) for this product, click here.